Enroll in weekly music lessons with Potomac Falls Music! We suggest enrolling for a minimum of 4 lessons, scheduled on a weekly basis. We believe that this allows us the necessary time to establish teacher student rapport as well as allow the student the necessary time to apply new practice routines and explore newly developed skills.
Rates for walk-ins and weekly enrollment
Virtual and In-studio lessons (Sterling, Virginia)
30 minute lesson $35
45 minute lesson $50
60 minute lesson $65

In-Home Lessons
30 minute lesson $40
45 minute lesson $55
60 minute lesson $70
Cancellation
Throughout your enrollment
Once you enroll in weekly music lessons, we follow a 24-hour cancellation policy. Should you wish to end your enrollment, we request 2 weeks prior notice. We at Potomac Falls Music believe that this policy benefits the student as it helps to insure a consistent schedule and thus ultimately reinforces a disciplined approach to music education. Please understand that these policies are also in place for the protection and insurance of the instructor's livelihoods.
Payment
Once you are enrolled in weekly lessons, you will enter the monthly billing cycle. Payment for the coming month is expected by the due date that appears on your monthly invoice. Invoices are sent on the first of the month and are due by the 16th. Your monthly invoice will be sent to you via email. Payments are accepted via free bank transfer through Quickbooks invoice link or via check.
Upon enrollment, you will receive a policy letter via email that more fully details these policies.

Please Fill Out this Form To Enroll in Lessons
Please CONTACT US if you have any questions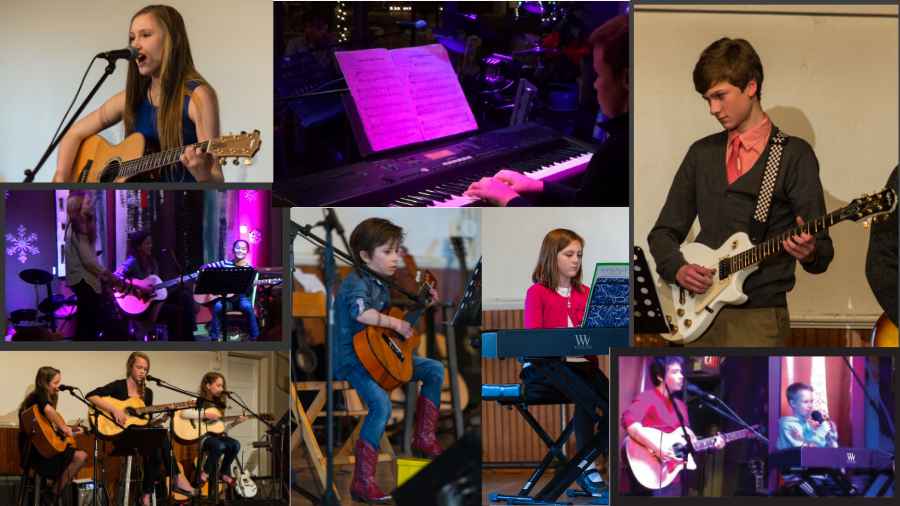 For beginners and parents of young students
For beginning students, it is important to note that a certain amount of patience is needed for the development of new skills (examples include hand-eye coordination and breathing techniques). Our commitment is to helping students develop the necessary discipline to persevere through the sometimes challenging phases of learning an instrument.
For young students, this stage can be particularly challenging, especially when expectations are not immediately satisfied. We encourage parents to be sensitive and support their children through the various phases of learning by providing practice reinforcement. If your child is experiencing particular difficulty, please keep us informed so that we may work together on a creative solution.
Commitment to Practice
Consistent practice is essential to continued improvement. We recommend regular practice throughout the week plus one weekend day. We find that students make greater progress practicing a little each day, as opposed to practicing for an extended length of time on one day only. Even as little as 10-30 minutes daily is far more effective than 2 one hour long practice sessions per week.