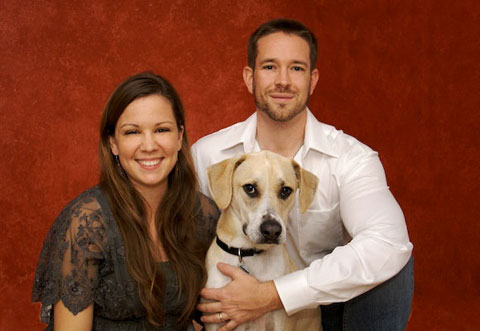 Potomac Falls Music is owned and operated by husband and wife team, Jim Cash and Ashley Cash. The couple launched their private music instruction company shortly after their marriage in 2005. They began with a vision of creating a small business that could turn their passion for music into their livelihood. Now, after celebrating more than 15 years in business, they are as passionate as ever about spreading the joy of music!
Jim and Ashley have a fully equipped music recording and teaching studio located at their private residence in Sterling, Virginia. In addition, the couple has built a successful music career as professional performing musicians and Indie Songwriters through their award-winning musical group, Woven Green.
Message from Jim and Ashley:

It is a dream come true for us to be able to make music every day and share our passion and knowledge with others. We are truly grateful to have the opportunity to offer this service and share it with the community! It's hard for us to believe that we've been doing this for more than fifteen years now! When you are doing what you love, time certainly flies by. We have amazing memories and ongoing relationships with some of our students and families, that we truly cherish as a life well lived! We plan to continue our musical love and livelihood for years to come!

"Since 2008, my daughter has been fortunate to have had the guidance of Potomac Falls Music to learn guitar and vocals…We plan on continuing this partnership for many years to come!"

Liz Lee, Potomac Falls, Virginia
"I would not have dropped out of piano when I was a little girl if I had such a great teacher. These girls are very lucky! Thanks Potomac Falls Music for providing such talented teachers!"

Lissa Perez, Great Falls, Virginia
"Our son learned an incredible amount about playing guitar and music in general. He looked forward to each lesson, was excited with what he learned and loved the opportunities that Potomac Falls Music provided for him to perform for a live audience."

Rob and Tara Allen, Reston, Virginia