Vocal Coach and Guitar Instructor
Ashley Cash is a voice instructor and guitar instructor at Potomac Falls Music. She and her husband founded the private music instruction company in 2005. Ashley holds a B.A. from George Mason University and currently works as an independent musician, music instructor, and small business owner. She is also one half of the award winning musical group, Woven Green.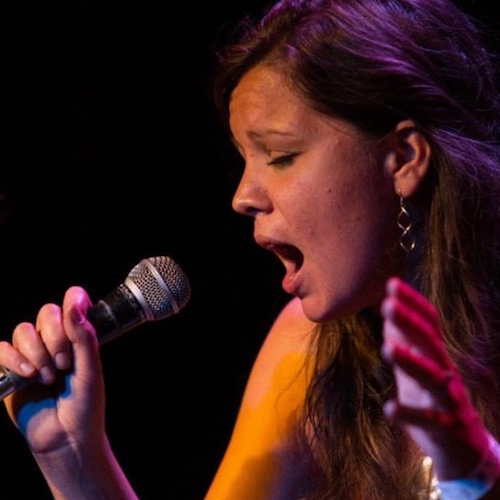 Ashley attributes her early musical development to her family and their appreciation for music and musical theater. She began singing vocal solos at age 10 in school chorus, then performing with her guitar at age 13. She had conservatory vocal training from ages 13-15. In her teenage years, Ashley's parents would accompany her to all manner of open mics and performance venues, per her request. Towards the end of her college education, Ashley met her husband, Jim. The couple went on to start their own music instruction business and became avid performers throughout the region.
As a voice instructor, Ashley primarily teaches pop, rock, blues, jazz, folk, country, classical, and musical theater vocal performance genres. She teaches acoustic guitar for beginner to intermediate levels especially in the styles of folk blues and rock. Ashley is passionate about sharing her love for music. She aims to impart the technical means necessary for her students to enjoy the musical learning process.
Many of Ashley's students have gone on to pursue professional music carriers in musical theater, independent music, and music education.
Professional Independant Musician
Ashley is one half of the award winning musical group, Woven Green. The band has been active throughout the region since 2009. After recording a few EPs and two live albums, Woven Green released their acclaimed full length studio album, Into Bloom (2017). The album is currently signed for publishing licenses on Discovery TV Newtorks, PBS and others. In addition, more than 250 terrestrial college radio stations nationwide have aired the album. Ashley has been nominated for a Washington Area Music Award (WAMMIES) twice. The first time for Woven Green's debut EP, then for Best Modern Rock Vocalist for her work with the band ONE LEAP.  Her voice has been described by music critics as "stunning", "otherworldly" and "worthy of emulating."   You can hear Ashley's singing on Woven Green's recorded albums which are available on itunes, spotify, youtube, and other digital music outlets.
Ashley is also an audio engineer and live sound technician. In addition, she has also had experience as a radio engineer and co-host. Ashley and her husband Jim were both co-hosts for 94.7fm WERA Music Alley Radio in 2018.
SCHEDULE A LESSON WITH ASHLEY

" In 2006 my daughter Margaret had her first voice lesson with Ashley Cash. My daughter was nine years old at the time and eager to sing. Also, she was very hyperactive and hard to work with. Margaret was engaged, focused and thrilled to be a voice student whenever Ashley would work with her. How did that happen?

Ashley's ability to meet Margaret where she was at in order to get the lesson across was amazing. She was also resourceful and able to keep up with Margee's unique personality. Margaret would do whatever she could to perform to her highest caliber for Ashley. Ashley allowed Margaret to be Margaret. I am more grateful for Ashley's efforts than I can say. Margaret has not pursued anything in her life for the duration or to the extent that she has pursued voice lessons. I believe Ashley has been and remains the catalyst for Margaret's commitment. Wherever you go Ashley we will follow!"

Liz Hoffinger, Great Falls, Virginia
"Ashley's positive and professional approach has taken my daughter to a much higher level of performance than most expect from typical music lessons. Ashley's background and direct experience with Woven Green is what sets these lessons apart from others. My daughter has been coached in everything from Rock/Folk music to Italian Arias, and would not be the performer she is today without Ashley's coaching."

Liz Lee, Potomac Falls, Virginia