Piano and drum instructor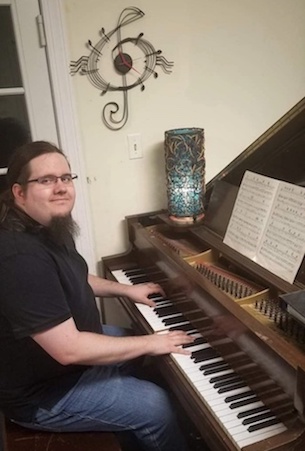 Monty Smith is a piano and drum instructor for Potomac Falls Music. He offers private music lessons in pop, rock, fusion, electronic, Classical and more! He has been a part of the Potomac Falls Music family since 2016.
Classically trained on piano from the age of 4, Monty Smith graduated from Northern Virginia Community College in May of 2014 with an Associate of Arts degree in Music. Both of his parents play multiple instruments, which served as a strong driving force in his musical upbringing. His father teaches bassoon and directs orchestras, while his mother plays flute and piano with several groups. During Monty's college years, he added drum kit, guitar and bass to his arsenal of instruments, studying under multiple instructors to heavily broaden his musical horizons. Aside from classical endeavors, Monty has also played in numerous rock bands, several church groups, accompanied choral ensembles. He has also taught group keyboard and band classes at summer camps. Monty enjoys teaching Pop, Rock, Fusion, Electronic, Classical and more to any student with a thirst for learning!
When he isn't teaching lessons or playing in bands, Monty occasionally works as a stagehand for concerts of all sizes. Monty also maintains a vast collection of model trains built from Lego bricks! He displays his model trains at public shows several times a year.